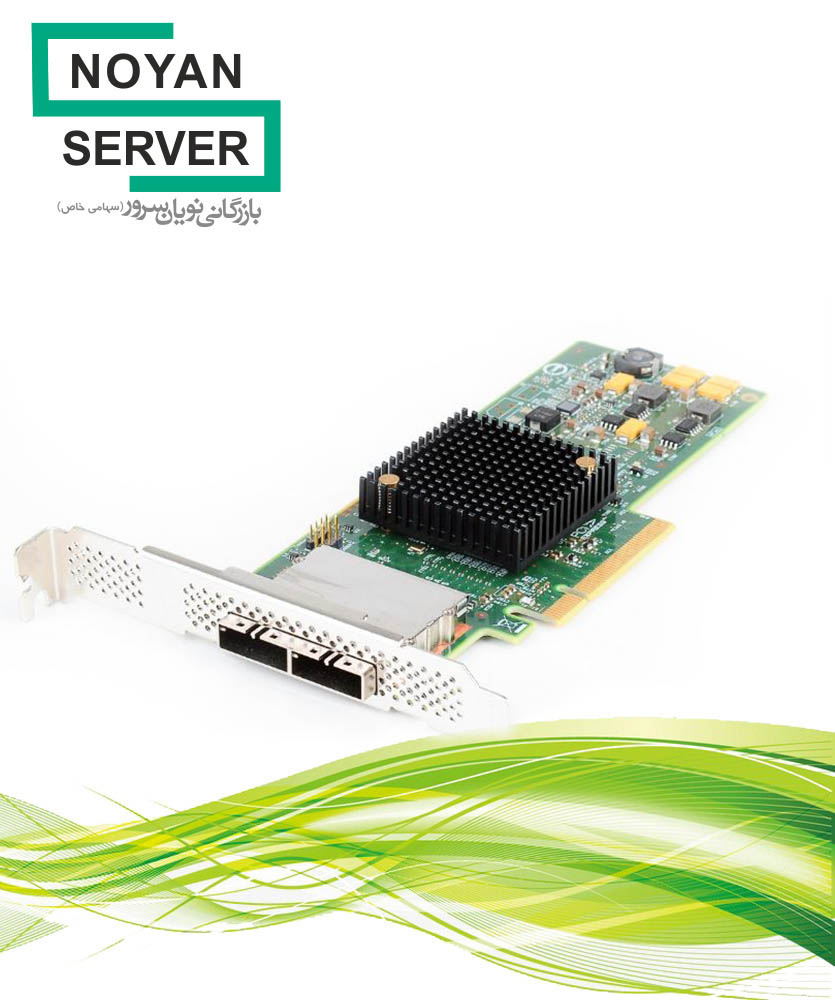 کنترلر HP H221 2Port HBA Controller 6G SAS
HPE H221 Host Bus Adapter External 2-Port HBA-Controller 6G SAS - 738191-001 / 729552-B21
| | |
| --- | --- |
| توضیحات محصول | HP H221 Host Bus Adapter External 2-Port HBA-Controller 6G SAS - 738191-001 / 729552-B21 |
| پارت نامبر | PN: 738191-001 / 729552-B21 |
| برند محصول | HP |
| تعداد پورت | 2 |
| رابط SAS | 6Gb/s |
| رابط SATA | 6Gb/s |
| Cache | 512MB Flash Backed Write Cache |
| RAID level | (in connection with battery pack also possible: 5, 50, 6, 60)0.1.10 |
| Ports | 2x external SFF-8088 |
| نوع آداپتور | Plug-in - PCIe Gen3 x8 |
| پشتیبانی از سرورهای | HP ProLiant DL160 Gen8 / HP ProLiant DL320e Gen8 / HP ProLiant DL320e Gen8 v2 / HP ProLiant DL360e Gen8 / HP ProLiant DL360p Gen8 / HP ProLiant DL380e Gen8 / HP ProLiant DL380p Gen8 / HP ProLiant DL385p Gen8 / HP ProLiant DL560 Gen8 / HP ProLiant DL580 Gen8 / HP ProLiant ML310e Gen8 / HP ProLiant ML310e Gen8 v2 / HP ProLiant ML350e Gen8 / HP ProLiant ML350p Gen8 / HP ProLiant SL210t Gen8 / HP ProLiant SL270s Gen8 / HP ProLiant SL4540 Gen8 / HP ProLiant SL4545 G7 / HPE ProLiant DL360 Gen9 / HPE ProLiant DL380 Gen9 / HPE ProLiant DL560 Gen9 / HPE ProLiant DL580 Gen9 / HPE ProLiant ML350 Gen9 / / |
| قابل نصب بر روی استوریج های | HPE P2000 G3 MSA Array Systems / HPE D2600 Disk Enclosure / HPE D2700 Disk Enclosure / HPE D6000 Disk Enclosure |
درباره کنترلر HP H221 2Port HBA Controller 6G SAS
Model
650931-B21
Compatibility
ProLiant DL (Rack-Optimized)
HP ProLiant DL360p Gen8
HP ProLiant DL380p Gen8
ProLiant ML (Expansion-Optimized)
HP ProLiant ML350p Gen8
Performance
6Gb/s SAS (Bandwidth per physical link)
48Gb/s total available bandwidth (8 physical links x 6 Gb/s)
PCIe 3.0 host interface x8 (8 GT/s Theoretical Bandwidth) on H221 PCIe 3.0 model or PCIe2.0 host interface x8 (5 GT/s Theoretical Bandwidth) on the H221 model
HP Server integration
Fully integrated and tested with ProLiant servers and management software.
Key features
SAS technology delivers high performance and data bandwidth up to 6 Gb/s per physical link
Mix-and-match SAS and SATA hard drives; deploy drive technology as needed
PCIe x8 (4 GB/s bandwidth)
PCI 2.0 x8 capable
Ports
Eight (8) SAS physical links distributed across 2 x 4 external SFF8088 Mini-SAS connectors
Capacity
Eight 6 Gb/s SAS physical links supporting up to 2 simultaneous x4 Wide SAS Ports
Capacity up to 288TB of SAS or 192TB SATA
Form factor
Either high-profile or low-profile PCI 2.0 slots. (parts included with option)
Supported enclosures
HP P2000 G3 SAS MSA Dual Controller LFF Array System (Two AW592A G3 SAS controllers, one AP838A LFF 12-drive bay chassis)
HP P2000 G3 SAS Modular Smart Array Controller
محصولات مشابه
محصولات مشابه با کنترلر HP H221 2Port HBA Controller 6G SAS را مشاهده کنید.